Our Story
Hello, My name is Tom LaChaussee. My wife Crystal and I are the proprietors of Humble Joe's Chophouse and Grill.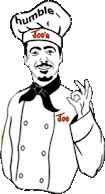 We were the owners of the Perkos Café and Grill Franchise in Redding and Anderson from July of 1993 to December 2012. We have grown with the community and we are truly blessed to live in the North state and to have raised our children with yours. We thrived on the Perkos Café style of ownership because it fostered creativity and we have always been eager to expand on offerings to accommodate local customer desires and palates.
As you know the economy in the last few years has inflicted great change on America and with it, the Perkos Café chain. The Perkos franchising company grew very fast with new concepts during the good years and alas downsizing is a much more painstaking and painful process.
In the absence of solid leadership from the beleaguered franchisor we produced our own menu. Our menu was well received and we saw and continue to see many promising trends. Our menu grew in different directions from the franchisor in a very short time. We were faced with the decision of either getting back in the fold or continuing with our own concept.
We decided to go our own way! The differing philosophies of how to move forward in this economy and beyond is black and white to us. We have always been quality conscious owners insisting on the best and freshest foods we could find and were having to live with the franchise groups' desire to be the cheapest, using what I consider to be inferior food product with thoughtless trend hopping.
I believe the coming backlash of cheap and getting cheaper is going to hurt the cafe dining segment and I want to move in the other direction filling a growing niche of quality conscious yet affordable family dining.
We are proud of our beginnings with Perkos Café and will forever have a debt of gratitude towards the franchisor and the Perkos family of franchisees. We cherish the lifelong friendships and family camaraderie fostered by them but I feel like the shackles have been removed and I am a real entrepreneur. Make or break, do or die, I did it my way! I get it Frank (Sinatra), thanks!
Please don't hesitate to ask for Tom or Crystal as we are in at least one of our locations in Redding and Anderson, every day.
People want to know what a Chophouse is and why Humble Joe's.
Lets start with Chophouse. I thought, like many people, that a Chophouse was a fine steakhouse. Expensive décor, prime steaks and 1000 bottle wine cellars. Then I did some research and found out at the turn of the 20th century a chophouse was merely an American diner that specialized in entrees with meat as the center of the plate. That means Chophouse is the birthplace of every American Diner! The term was lost and lately started to be used by upscale steakhouses as a way of cutely understating their elegance. Kind of like Mustards Grill in Napa calling itself a truck stop! Cute but not even close.
Okayyy…So why Humble Joe's?
I've had a lot of good training from some very good chefs over the years. I started washing dishes in Redding for what was then the Hilton Inn in Redding on Hilltop drive. My neighbor, who was the chef at the Hilton at the time saw me doing my usual slave labor when I was 16 in my family's very large vegetable garden. He asked if I wanted a job and I said sure, thinking its about time someone paid me! He trained me to do food prep after breaking me in on piles of dishes, pots and pans. I never looked back. A few years later I went to work for my uncle in New York and had some very good training with a very hard working and classically trained French Chef by the name of Andre Mignier. After getting married and moving back to California I worked for Chef Wally Price at Volontes in Anderson. Previously Wally was the chef for various Joe's restaurants in the Bay area. Marin Joe's, San Francisco Joe's etc. He always wanted to open a Shasta Joe's in the Redding area. It never transpired but the name and the idea always stuck with me. Many of the specials and menu ideas I now have come from my training and exposure to the Joe's menu. They are a nice mix of Mexican, Italian, Steaks, Seafood and good old fashioned American favorites produced by serious cooks in open kitchens. The food is about the flavor. Fresh ingredients, real butter, good cooks and lively sautes with a little vino. After my experience at Volontes I moved to the front of the house with Perko's Cafe. I worked my way up from assistant manager and eventually became the franchise owner of 4 locations while raising 2 fabulous kids with the rock of my life, Crystal, my wife of 35 years. When the world turned upside down, the music stopped or the spaetzle hit the fan, so to speak, Perkos didn't have anyway to grow. The Perkos franchise fund had been used to launch new concepts during the boom so even producing a new menu took forever. During this time I produced my own menu, since no one else was, and that turned out to be the point of no return. The franchisor wanted me to go back to their menu and after all the work I put into mine, I just couldn't. We parted friends and I look back at my time with them as very good years. They were and continue to be outstanding professionals and generally wonderful people. In my new menu I incorporated some of the good old fashioned chophouse cooking and sautes they did at Joe's. I never liked the idea of naming a restaurant (or my son) after me so when it was time to name my restaurant, chef Joe was born.
Okayyy… Thats Joe but you dont sound very humble! Why Humble?
Coming up with a name, an identity and a logo for a restaurant while being bombarded in today's high powered marketing schemes is daunting. Everyone claims to be "Famous" or the "Greatest". The public, of which I are one, is bored with the hype. We've heard it all before and now we're immune. That's why I chose Humble for Joe's. Its not only different, it stands out because it's the opposite of Madison Avenue's advice. It gives Joe character. Character that we can build on that doesn't sound like everybody else. By the way, Humble doesn't mean you think less of yourself. It means you think of yourself less! A humble person can be the most famous or the world's greatest but he'd rather talk about you! So Joe is the perfect host. I'm not particularly humble around my employees and quite frankly there's not too many people that can do what I do. If you are the player/coach/owner of your own restaurant business and have 70 employees or if you happen to be the captain of your own pirate ship in the Bermuda Triangle ( aka: California) then you get the gist of it. But with my customers, lets just say, I know who's drivin the bus and it humbles me.
Tom Lachaussee
Owner, Humble Joe's Chophouse and Grill
An Interesting Tidbit
I once had a couple of my managers go try one of the competitions cheap steak breakfasts and report back. They were recognized by their server and told when they ordered it that they wouldn't like it!! My managers insisted cause that was the mission but then the manager came out and told them they wouldn't be happy. He was right. So, the competition didn't want to be embarrassed by their woeful steak but if it was John Q. Citizen they would have been happy to stand by it. They're still advertising them so they're still using the price to bring people in. You can fool every one once but why? People walk away saying to themselves well that's what I get for buying cheap and they don't blame the restaurant. I would rather have the person say well, now I know where to go when I want a great steak at a fair price. One walks away full thinkin I could have eaten shoe leather for all I know and the other is full saying damn that was a fine steak. One eats food to keep from dying and the other eats food to die for. One is living and the other isn't dying.